July 29, 2014
Posted by

Ann Althouse
at 7:36 AM
0 comments


The whole
thing
is an experiment, but
here
's the revelation:
In one experiment, the site took pairs of "bad" matches between two people... and told them they were "exceptionally good" for each other.... "Not surprisingly, the users sent more first messages when we said they were compatible," Christian Rudder, one of the founders of OKCupid, said in a blog post on the company's research and insights blog.
Further experiments suggested that "when we tell people they are a good match, they act as if they are. Even when they should be wrong for each other." The company later revealed the correct scores to the participants.

In another experiment, OKCupid ran profiles with pictures and no profile text for half of its test subjects, and vice versa for the rest. The results showed that people responded solely to the pictures. For potential daters, Mr Rudder said that "your actual words are worth… almost nothing."
Posted by

Ann Althouse
at 7:03 AM
0 comments


Here's video of him performing in 2011, when he was 97:
And the video below comes from way back in 2007, when the President of the United States was George Bush, and Professor Irwin Corey looked much more than 5 years younger. He criticizes the President in both videos, and perhaps the years weigh very heavily as you approach 100 — I'm saying "you," but do you really think you'll have the opportunity to feel the increasing weight of the years leading up to 100? — but perhaps for a true left-winger like Professor Irwin Corey, the experience of disappointment in Obama hurts far more than getting what you knew you were going to hate from George Bush.
From Wikipedia:
Posted by

Ann Althouse
at 6:34 AM
1 comments


Tags: aging, Bush, charity, comedy, Cuba, Ed Sullivan, guns, Irwin Corey, left-wing ideology, Mort Sahl, Obama attacked from the left, real estate, Robert Heinlein, Thomas Pynchon, Woody Allen
July 28, 2014
PolitiFact verifies.
Here's the ad:
Other things to think about: Should Walker concentrate ads on Mary Burke's family's company? Which voters are susceptible to arguments based on Trek's use of Chinese labor to makes its bikes? Which voters are susceptible to the argument that Mary Burke would make a good governor because her family has a business that makes great bikes? If I'm riding around on my Trek bike, am I a rolling ad for Mary Burke?
ADDED:
Instapundit says:
[A]ttacking Dems on hypocrisy that will hurt them with their base is an excellent turnout-reducing strategy. People bothered by these ads won't vote for Walker, necessarily, but they'll be less likely to show up at all. Same reason people should go after Democratic officeholders who pay women less than men.
And as I said in the comments a few hours ago:
I think Walker is trying to deprive Mary Burke of an argument she wants to use: That Walker didn't keep his "promise" to cause X number of jobs to come into being in Wisconsin.

It's his preemptive "Yeah, you're worse."
As you can see from
this Green Bay Gazette report
, Burke does use that argument. Democrats are fixated on 250,000 as the number of jobs Walker promised. PolitiFact is keeping track of the statistics
here
.
Posted by

Ann Althouse
at 8:29 AM
62 comments


July 27, 2014
Posted by

Ann Althouse
at 9:02 PM
4 comments


1.
Instapundit links
to a news report of 2 teenage girls arrested for torturing a gopher tortoise. They were caught because they made a video of their brutality and posted it on Facebook, replete with the voiceover "Burn baby, burn baby. Now you're scared of us, huh?"
2. David Sedaris wrote a story called
"Loggerheads"
revealing the way he and a friend, when they were young, treated some sea turtles. As an adult, looking back, he identifies with them, but here's the description of the fate of 5 baby sea turtles he found at a beach and installed in his aquarium and fed raw hamburger:
The turtles swam the short distance from one end of the tank to the other, and then they batted at the glass with their flippers, unable to understand that this was it—the end of the road....

Posted by

Ann Althouse
at 4:09 PM
28 comments


1. I'm offended by
his absurd shorts — cut-off stone-washed jeans
. But I must say I got a kick out of the photograph of him with his 26-year-old girlfriend Lina Nilson because — she's also in shorts — the 2 have virtually identical legs.
2. The Sufis are offended that his new cologne,
Just Cavalli, has a logo that looks a lot like a symbol
the M.T.O. Shahmaghsoudi school of Sufism has used for 150 years — and have had trademarked for 27 years. It spells out the words "Allah" and "Ali." According to
Georgia May Jagger — the 22-year old model (and Mick Jagger daughter) who appears in the video ad — the perfume's logo is supposed to look like
"The tattoo is the bite, the snake bite. It draws us together. And it's basically the sign of seduction." That kind of talk tends to irk the Sufis, whose symbol is said to represent "peace, purity and the name of God." The Sufis lost in court on the trademark infringement issue, but it seems obvious that the Cavalli people would have selected a different logo if they'd seen that their effort to seem very sexy was going to get mixed up with Islam. Here's the ad:
And here are the 2 logos, side by side (with the Cavalli logo tipped sideways):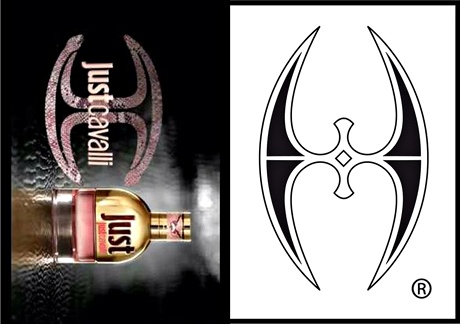 Posted by

Ann Althouse
at 3:31 PM
23 comments